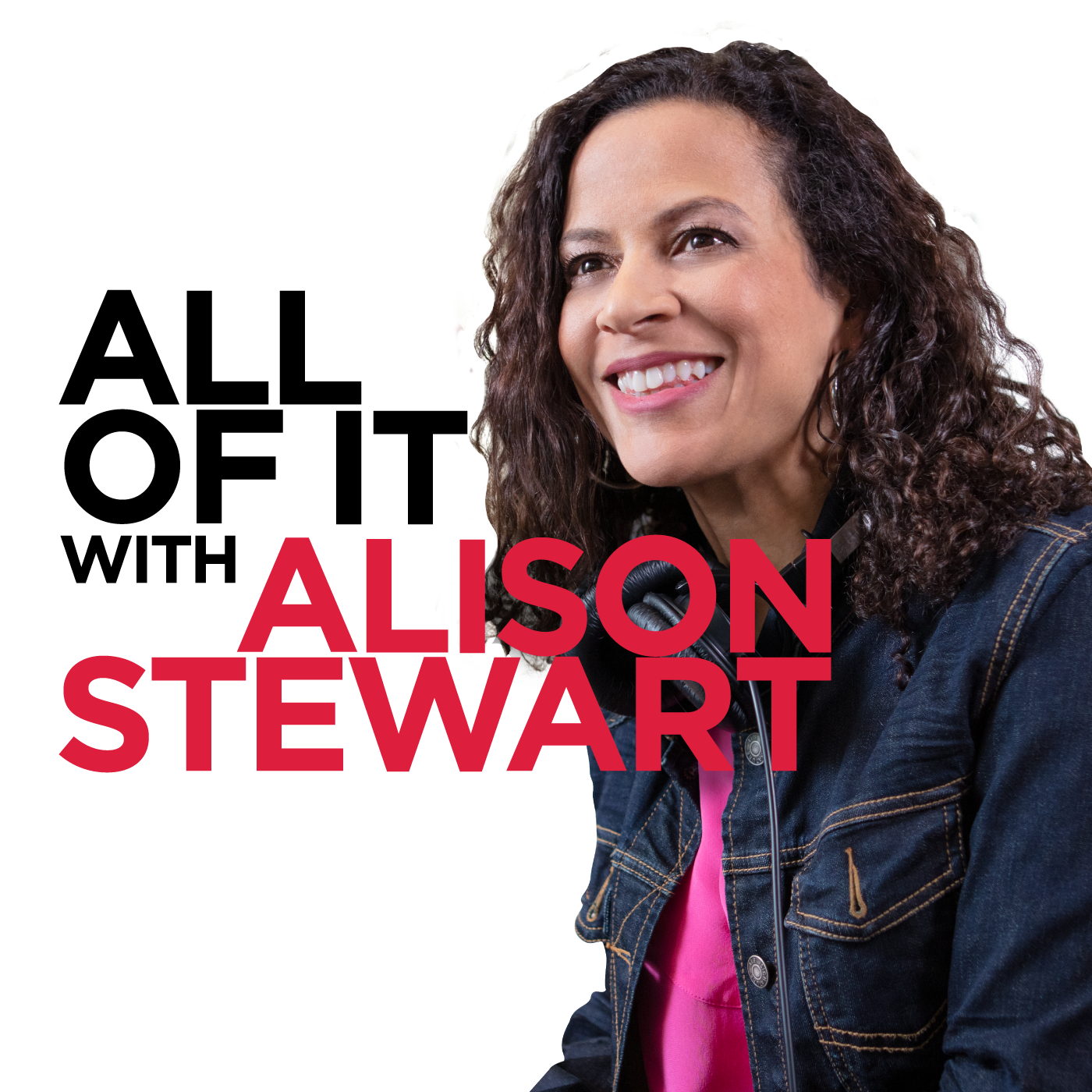 Alison Stewart: This is All Of It on WNYC. I'm Alison Stewart. If you're a fan of choral music who's ever wondered what it would sound like not in a church or a concert hall but in a club, you have a chance to find out tonight, tomorrow, and Sunday with the genre-bending singing group, Choral Chameleon. Here's their cover of John Mare's Bigger Than My Body. 
[music] 
Alison Stewart: Choral Chameleon first launched as an ensemble in 2008 and has thrown into a chorus of more than 50 voices who meet weekly in Manhattan. The repertoire ranges from new choral works to reimaginings of classic pop songs. This week they're branching out into the rave scene with a series of dance parties at the space at Irondale in Brooklyn, joined by a DJ and performing arrangement of hit songs by the Bee Gees, Whitney Houston, Ariana Grande, and more. Joining me now to preview the shows is Vince Peterson, founder and artistic director of Choral Chameleon. Vince, welcome to all of it. 
Vince Peterson: So great to be with you. Thanks so much. 
Alison Stewart: How did the group start? 
Vince Peterson: I came to New York in '05 to do my master's degree at Mannes School of Music, which is part of New School. After I graduated with this fancy degree in choral music, I started looking around to find my tribe, to find my choir people. I think in classical music school, you're hit with a lot of elitism and a lot of that rhetoric of this music is good, that music is bad, and I just got tired of it. 
I went looking for a group like Choral Chameleon and I didn't find it and so I decided to start it. I started having conversations with people. I remember saying to one of our singers at the first concert, "This is either going to crash and burn or it's going to hit the ground running." She looked at me with this quiet look in her eye, and she said, "Let's see." We all walked on the stage and the rest is history. 15 years later, here we are. 
Alison Stewart: When you first started out, really, what was the mission? Was it just to have fun? Was it to meet people? 
Vince Peterson: I think it was to bridge gaps between genres of music and thus between groups of people and cultures. It was to eradicate the stigma of elitism in the classical music world. It was to elevate the sacredness of the human body as an instrument working in tandem with other human bodies as instruments. I often like to say the choir is an instrument made of people and it's the only instrument of its kind in that way. That's always been the goal and the mission. We find that there's a need for it in our community here and more broadly in the world, so it's kept going because of that, I think. 
Alison Stewart: When did you realize this was getting big, that it went from being a great idea and you got you and other people coming out on stage and not sure it was going to work to being something where you'd have more than 50 people [chuckles] involved? 
Vince Peterson: Yes. I hate to say it, but we started getting certain press attention but we also started winning awards. In 2015, we won the ASCAP Award For Adventurous Programming, which is given in tandem with Chorus America, which is, in my opinion, the top research and advocacy organization for choirs in the United States. I remember feeling so nervous walking up there, and I just thought, "What am I doing here? What is happening?" 
[chuckling] 
Vince Peterson: I think that for me, I admit to living a somewhat nuclear existence as a New Yorker. I've kept my head down and done my work. The real moving thing for me is to meet people after concerts and have them tell me how tectonic it was for them shifting. It just got to be more and more and more people and more people talking about it and getting asked to help other people and travel. Before I knew it, [chuckles] it was all there. 
Alison Stewart: My guest is Vince Peterson, founder and artistic director of Choral Chameleon. Bigger Than My Song is a Choral rave happening this weekend at The Space at Irondale. How did the song list develop? You talked a little bit about wanting to pair away the elitism. How did you decide and how do you decide what songs to work on? 
Vince Peterson: The first thing I would say is that composers are bigger than their songs. They are more than just the things that they create for us that have that curb appeal that appeals to everybody in society. That's what this is about. Actually, this started from the podcast Song Exploder. I had listened to it faithfully. I love how Hrishikesh on that podcast talks about taking a song and blowing it into a million, billion bits. I had the idea of putting these things back together in a new way through the lens or through the ears of composers who I found compelling. 
I asked them to pick the songs. I said, "What is a major pop song that you find resonant and that you feel you can do stuff with?" That's how the list came. Being an arranger myself, I started the project by doing an arrangement of Natasha Bedingfield's Unwritten and wove a Bach fugue into the middle of it to paint or signify the idea of your life being a blank page and the fugue one line at a time you writing the story of your life in that way. You try to lead by example. I'm very fortunate to have a wheelhouse of composers around us who are ready for anything in that way. That's how the list came about. 
Alison Stewart: Let's talk a little bit about the event this weekend. Where did the idea for this rave concert series come from? 
Vince Peterson: It came initially from Song Exploder, but then with us, most of it is that once I start to see the work of the composers that we're working with, that inspires me to evolve the project more because we are a reinventor and we are an explorer of new uncharted territory in the world of choral music. Oftentimes, we discover more and more about the project after the ship has already left the harbor, so to speak. That's the joy of it. That's the real fun part. Sometimes we don't know until we're halfway through what's going to happen. 
The idea has evolved into finding joy that is resourced or translated through another lens for people who normally would not be brought together. You have the concert music goers who love choral music, and some of them will just want to sit and listen to what's happening. Others are going to want to socialize and dance with their friends and do what you would do at a rave. Our goal is to be authentic in both of those spaces at the same time, honoring both communities and traditions and have everybody realize, whoa, what's happening here? 
Alison Stewart: You're going to be performing with a DJ called Concrete Husband. Can you tell us a little bit about Concrete Husband? 
Vince Peterson: Yes. I'm telling you, when Carlos Aguilar came into our lives, it was like the clouds parted and he came down on a chariot from heaven, I got to tell you. Carlos is a classically trained flutist who went to New England Conservatory, but who has a very strong foot in the New York rave scene as a DJ. He's blended these sensibilities and these worlds together. He is exactly the type of collaborator that Choral Chameleon would work with. I like collaborators who are just like, "Sure, I'm down. I'm down to try that. Let's see what happens." That's what he did. 
He's the type of musician whose technique is so good that it's invisible. It looks like nothing. It looks like he's not even exerting an effort. He does not know his own power. I think out of that, as always, comes the best musicing. Great humility, tremendous technique, full of joy. It's a whole-body thing for him. To watch him spin and DJ is like a whole-body thing. Then he picks up the flute and starts playing into the mic and it's just amazing. We were stunned watching him the first time. 
Alison Stewart: You were to share a draft of one of the songs you'll be performing this weekend made by Concrete Husband. The song is one people will recognize, How Deep Is Your Love by the Bee Gees. What are we going to hear in this remix? 
Vince Peterson: You're going to hear a little bit of the choir isolated with lots of verb on it, but you're also going to hear this thumping fast dance beat, and then excerpts of various choir lines that have been extracted from the original recording and reconstructed into this new tableau, this new space that Carlos has evoked. I think you're going to like it. 
Alison Stewart: Let's check it out. 
[music] 
Alison Stewart: Vince, we're all dancing. You're dancing, I'm dancing. 
Vince Peterson:: [laughs] 
Alison Stewart: the control room is dancing. Do you anticipate, is this a dance party? 
Vince Peterson: Oh, yes. Whatever the folks out there think a rave is, it is truly authentic to that. You will not be able to stand still when you're there and hearing this. I should, if you wouldn't mind, just give the credit to the arranger of that original choral piece, Jared Graveley, who's one of our singers. To me, he's one of the finest choral arrangers out there. He does so much great work both with Choral Chameleon and also with his group Highline. They're great. Jared wrote those beautiful harmonies which we find stunning. Shout out to Jared. [chuckles] 
Alison Stewart: We're going to play a little bit of that a little bit in a few minutes so we can- 
Vince Peterson: Awesome. 
Alison Stewart: -we can hear that. You've performed at Irondale before with Choral Chameleon. By the way, my guest is Vince Peterson, founder and artistic director of Choral Chameleon. What do you like about that space? 
Vince Peterson: Oh my God, that space is one of the best spaces in all of New York City. They took a portion of an old Presbyterian church in Fort Lee. They walled off and they put in all the tech of a theater. If you're going to do choral theater interdisciplinary projects, that's the place to do it because it has the acoustic liveness of a church, but all the tech of the theater and the Marley floor and everything. 
I have to say, the people there are just so kind, so easy to work with, and that is gold in this industry. It's been a seamless very, very pleasant process working with them. We like to get in there anytime we can. The space is dark. It's brooding, it has distressed walls. The history is seeping out of the walls in that space. Again, for Choral Chameleon, to mix the old with the new in that way, it's just the perfect space for us in general, but to do this project for sure. 
Alison Stewart: For someone who's been listening to this and thinking, "Gosh, this sounds like something I'd like to be a part of, Choral Chameleon," how does one audition? When do you have auditions? What's the deal? 
Vince Peterson: We hold auditions twice a year or so. You can visit our website, choralchameleon.com, and there's information in there about the process and the excerpts of music you have to learn and what it involves. Our staff will be very, very happy to answer your questions and assist you with that. 
Alison Stewart: Bigger Than My Song choral rave will be tonight, Saturday night, and Sunday night at The Space at Irondale. I have been speaking with Vince Peterson, founder and artistic director of Choral Chameleon. Have a great rave. 
Vince Peterson: Thank you so much. 
Alison Stewart: Let's go out on that version we were talking about of how deep is your love.